SHIPPING IS INCLUDED FOR EVERYTHING UNLESS STATED OTHERWISE.

Custom-made taupe blouse, $70:
someone on the list custom-made it for me (har fatty) and i love it, but the color wasn't quite right, i have nothing to wear it with, and the sleeves are too big(which is entirely my fault)


BUST: 48"
WAIST: 42"
SLEEVE CIRC: at bottom, 18".

there are some problems with it:


i seriously only tried it on once (back in early september) and otherwise it has sat around neatly folded, but somehow a pleat came un..pleated? :(



there are these blue marks above every button, but it will definitely not show when on



color comparison with meta's mocha bloomers. IF YOU ARE INTERESTED IN THESE WITH THE BLOUSE I WILL SELL THEM AS A SET FOR $100.


Books! $6 each or $15 for all three
I bought these at Barnes and Noble, thinking 'how cute! little books to carry around in a purse! and they're classics! perfect for loli!' i never picked them up again :(
AVAILABLE:
Pride and Prejudice
Sense and Sensibility
Jane Eyre



Black flat Mary Janes, size 9
Picked these up at a Goodwill for $1- FREE if you want them. The soles are pretty dirty, and the leather toes are very crinkled.



Dr Marten brand knee-high military boots Size 8 WOMENS (fits more like 8 1/2), $80
Excellent for kodona/punk styles, i've had these for about a year and a half and haven't even worn them long enough to break in the ankles fully. They're gently used with some scuffs and leather wrinkling, but the bottoms are immaculate (except for a clump of dirt on one). I just can't wear them because my allmighty calves are huge. Original laces too



SCUFF MARKS AND LEATHER CREASES-LEFT BOOT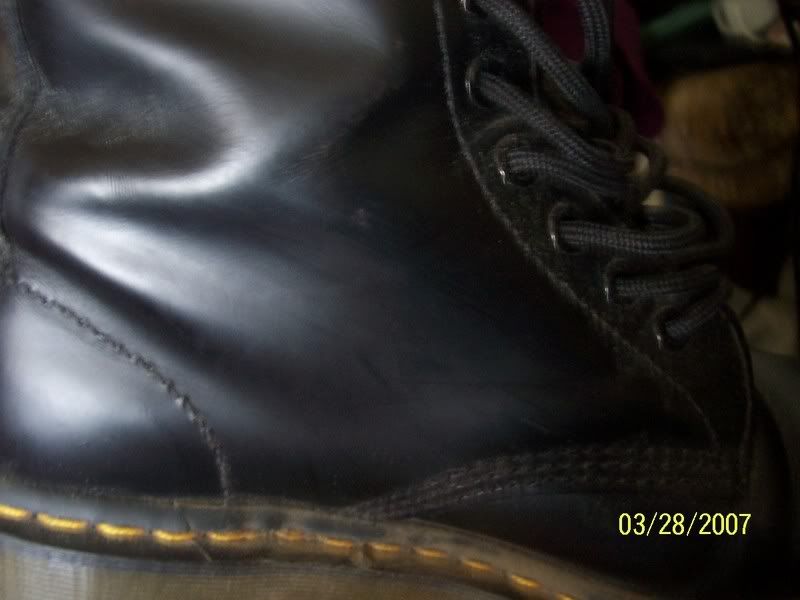 BOTTOM OF LEFT BOOT



SCUFFS AND LEATHER CREASES- RIGHT BOOT



dirt stuck in bottom:



Lolita-inspired Chobits (almost)complete cosplay set, $100 OBO



based on one of Chii's outfits from the manga, this was made by me last year. The satin used for the dresses is high-quality, low-shine satin, shoes are from a halloween shop for an Emily the Strange costume, wig is from www.amphigory.com, and even includes two hairspools.
The price reflects the total cost of everything i bought for it, broken down like so:
wig: $55
satins: $50 (roughly $9 a yard each, 3 yards of the blue and 2 of the satin)
hair spools, thread, button, hooks and eyelets, bit of lace: $5

HAIRSPOOLS:
hand-painted, wooden. very nice :)



WIG:
as mentioned, it is a high-quality amphigory wig. it's the first wig i styled on my own, with bangs cut into it


see? very long.

i also tried adding a weft to thicken it:


but it did not turn out well. the weft is still in there and has done no damage to the wig, but if given even a gentle combing, hair will come out. DO NOT PANIC, IT IS FROM THE WEFT.

MAIN DRESS:
size: bust 42" and up (no max, at the minimum it will look sort of bad)
waist: 38" max
good for girls over 5'3''
note- the satin used is definitely a good quality, but because it's still satin, it tends to fray quite easily. simply cutting NOT TEARING off the threads will work in a pinch.
The underdress:


a beautiful offwhite satin with gathered ruffles and an elastic channel at the top. This outfit has been worn outside (though not the shoes), and therefore there are some stains that aren't really noticable unless you examine closely:


water stain



some other sort of stain, not sure what



makeup, possibly



makeup again?

once again, THESE STAINS WILL NOT SHOW EASILY, but they are there. They might even come out with a gentle handwashing.

the overdress:
the ruffles at the bottom of this one tend to fray rather quickly, so i've done what i can to cut them down.



how it hooks together. the buttons are merely for show and do not actually function.

STAINS:


this shows some of the fraying threads- not sure what this stain is, but it is on the INSIDE of the ruffles and can barely be seen.


on the outside



near where the dress hooks together in the front- make up?



not sure :( but it is near the ruffles.

i love this costume, but i just do NOT wear it enough to justify having it around.

I also have several cell phones and chargers for sale, and some photography supplies if you're interested.

Thanks for your time :D